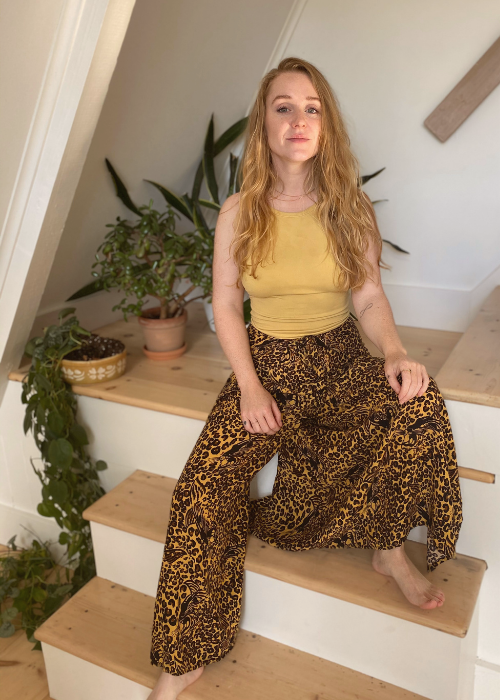 nice to meet you
i'm megan e johnson - megan, meg, or mej for short.
i'm an artist, a creative, a maker, a sun seeker, a fun lover, and a whole lot more.
i doodle and paint and sculpt and build. i like learning, getting my hands dirty and and having as much fun as possible.
i'm a leo sun, scorpio moon, sagittarius rising. i grew up as an only child and a horse girl (take from all that what you will). i'm freshly in my thirties, and i've been going through some major shit lately.
in my twenties i did all the 'things' - graduated uni, tested my relationships, moved around and travelled a lot. i studied physics and oncology, i was a bartender, a waitress, a nanny, a tutor, and a few different versions of myself before deciding to pursue a more creative path & lifestyle.
muse was born in 2018 while i was living in montreal, studying and working at the hospital while also balancing 2-3 other jobs. i started to share my anxiety-driven comic doodles online during a period of deep burnout & questioning where i was at in life. in my healing process, i dove deep into self awareness and started dreaming about a quieter life, with days spent painting in the fresh air and selling at markets and exploring the forests and oceanside i missed so much. 
i took the jump to shake things up (again), and moved back to nova scotia in the summer of 2020 amidst a world in chaos to start to build a life around my creative center. in early 2021, my father took his life and my world was turned even further upside down. dealing with with the pandemic, this insane world, losing my dad unexpectedly, adjusting to coming back to a small town after a decade away, changing careers, my saturn return, years of burnout related health issues, and a whole lot more has been rough these last couple years. my continued need to focus on healing, mental health, enjoyment, and fulfillment all bring me back to my need for creativity - and reminds me of my why on a daily basis. art is my therapy, my escape, my fun, my playtime, my passion, and so much more. 
in real life you'll find me reading, running, hiking, napping, and drinking whiskey in my spare time. 
here on the site you'll find my artwork, writing, photos, and more that express my journey into creativity.
i hope my work resonates with you and inspires you and excites your inner muse. 
meet the muse
the first doodles that started the whole brand:
she's a symbol of self love, self acceptance, and self discovery.

she's a reminder that you can inspire yourself, be your own muse.

she's about all the pieces and complexities that make you whole.

she's inspiration from within and all around. 
the mej muse
based near truro, nova scotia/mi'kma'ki, canada

i aim to print with, partner with, and support as many local businesses as possible when making decisions and purchases for muse (and for myself).
i use as many thrifted, secondhand, recycled and repurposed materials as i can get my perpetually paint-covered hands on for muse (and for myself - we love a thrifty queen.)
i create all my artwork from my home and my heart and i'm honoured to share it with y'all!
let's be friends